ART AND ECOLOGY WORKSHOPS
FOR THINKING GARDENS
How We Live In Cities at the BIG on Bloor Festival offers arts, culture and urban ecology workshops. The 3-hour-long relay projects provide hands-on opportunities to participate in interactive, multi-disciplinary events that explore ways to animate, enhance and improve the experience of living in cities
– each encouraging garden-making.
---
How We Live In Cities is a feature event for the BIG on Bloor Festival of Arts and Culture, taking place from 1:00 PM- 7:00 PM on Saturday, July 22, and from 12:00 PM-6:00 PM on Sunday, July 23, 2017, at car-free Bloor Street between Lansdowne Ave and Dufferin Street, with up to 100,000 people attending. How We Live In Cities Hub is located just West of Dufferin Ave. on the South side of Bloor Street, in front of the Tennis Courts.
---
Why Gardens?
Gardens lower the city's carbon footprint. They mediate summer heat, water run-off, promote food security, provide animal and insect habitat, improve air quality, enhance urban appearances and gardening provides healthy, self-directed exercise fostering better health and mindset.
---
ABOUT THE WORKSHOPS
---
How We Live In Cities


The Garden Centre 
At the Garden Centre people can check the workshop schedule, mark their place on the green asset map, contribute information, ideas, make a garden button and offer a Garden Wisdom quote.  Festival-goers can learn about on-going Spot Gardens as an effort to encourage garden-making. Spot Gardens are a start-up with intentions to foster an art and garden corridor to link civic, commercial, institutional and residential spaces along a greened Walk Here corridor. Festival goers can sign-up to make a Spot Garden and create a Spot Garden way-finder, marker flag, and win a Spot Garden Tool Kit while supplies last.
How We Live In Cities responds to climate change and population shifts with art, cultural and ecology projects. HowWeLivInCities.com
---
Eric Anthony Charron
Garden Sculpture: BIG Lights and Wind Works
Installation of hanging lights and wind catchers, constructed from recycled materials. Eric's regenerative Sun Lights demonstrate the use of recycled plastic water bottles made luminescent by solar LED technology. This workshop will feature creation demonstrations, and opportunities for all ages to help make sculptures for gardens.
Eric Anthony Charron is a Toronto-based architect, urbanist and reclaimed materials artist. He founded upcycledXD in 2009 with a series of design experiments in direct response to a garbage strike. His creations are situated between utility, reusability, abundance and delight. Recent installations include: Sun Lights, Place and Placement, Re-Imagine Galleria for How We Live In Cities; Blue Light, PULP '17; Bottom's-Up Chandelier, The Centre for Social Innovation for Spadina Office; Bottom's-Up Chandelier, Spazio Del-Arte Gallery; UpcycledXD, The Azure Awards Gala.
upcycledxd.com
---
David Acheson
Animals Gestures
David's workshop focuses attention on wildlife, urban habitat and the animals we share space with.  Working in malleable materials, he responds to audience requests to spontaneously create animals and insect sculptures. This workshop invites hands-on, shared participation in sculpture-making, accompanied by discussions regarding how gardens support urban wildlife habitats.
David Acheson's sculptural and photographic works riff on popular imagery, graphics and signage, to inhabit places in the nature – culture gap. His figures move in and out of the particular and the unknown while inviting acts of recognition, and standing as small monuments to collective solitude.
---
Annette Mangaard
ZOETROPES:

 

Animated Gardens
In this workshop, lead by filmmaker Annette Mangaard, visitors can animate the lifecycle of a garden by building a zoetrope, a pre-film animation device that produces the illusion of motion through a sequence of drawings or photographs.
Annette Mangaard has written, and directed sixteen films in more than a decade as an independent filmmaker. She was nominated for a Gemini for Best Director of a Documentary for her one-hour documentary about the celebrated Canadian artists collective, GENERAL IDEA: ART, AIDS, AND THE FIN DE SIECLE (for TVO, Bravo, SCN, and Knowledge). The film premiered at Hot Doc's in Toronto before going on to garner accolades at the Vancouver International Festival, DOCSDF Mexican Documentary Film Festival and Asolo International Art Film Festival in Italy.
Women Make Movies wmm.com/filmcatalog
---
Kathleen Vaughan
Gardens of Water
From Grove to Gulf, and How Toronto's Garrison Creek Connects to the Gulf of the St. Lawrence River
Inspired by New Zealand, where the Whanganui River was recently granted the same rights as a person, Kathleen is currently collecting and sharing water stories for Walk in the Water / Marcher sur les eaux, an interactive art installation that invites us to re-imagine our precious Ontario/Quebec waterways and the futures we hope for them. For Big on Bloor, Kathleen's Gardens of Water also reminds us that the survival of all things depends on our water system, and she offers ideas on the ways people can improve the health of our waters through slight changes in daily practices, including reducing water consumption, avoiding plastic and chemical fertilization, and not flushing medicine or fish down the toilet.
The installation includes a large map of the water's route through Garrison Creek, under Dufferin Grove Park to Lake Ontario, and into the St. Lawrence River towards the Gulf and the Atlantic Ocean. See water samples and photos from along the 1400 kilometre route, and contribute your own water stories to the collective audio archive, too.
Kathleen Vaughan is an artist and educator whose work takes an environmental focus. She has a walking practice that contributes to her art making, and is known for her textile maps of walks in urban woods and green spaces. Once a long-time Toronto resident, and neighbor to Taddle Creek, Kathleen now lives and works near the St. Lawrence River in Montreal, where she is Concordia University's Research Chair in Socially Engaged Art and Public Pedagogies.
www.akaredhanded.com
Thom Sokoloski
Herb Sensorium (Growing a Sculpture)
In this workshop, participants will create herb gardens that integrate the five senses into their concept, design and cultivation. The approach is similar to that of an artist creating a temporal artwork using materials that unify over time, evolving into a fleeting expression of imperfection, impermanence and elemental beauty.
Thom Sokoloski is a multi-disciplinary artist whose practice explores the nature of engagement in art and its relationship to perception, memory and the unconscious. Form and spirit play an important role in the materials he chooses to incorporates during his process, as does the potential for contemplation within the space each artwork is presented.
www.thomsokoloski.com 
---
Siobhan Boyd, Gardiner Museum
Garden Animals
Did you know that clay is actually a type of soil? It's found near water and can be used to make a wide variety of useful objects, from bricks and dishes to vases and sculpture. Join us and make your own clay pot in the form of an animal, then take it home, plant a seed in the pot and watch it grow.
The Gardiner Museum is Canada's national ceramics museum, and one of the world's great specialty museums. The Museum is committed to making a contribution to the medium it celebrates, as well as the community it serves, striving to be an inviting destination that inspires and connects people, art, and ideas through clay.
www.gardinermuseum.com
---
Jibola Fagbamiye


The Painted Landscape



Never painted before? No Problem! At How We Live In Cities Garden Centre, festival-goers explore garden themed ecology project through painting, guided by friendly professional instructor, Jibola Fagbamiye and team. Festival goers are offered step-by-step instruction to create an original garden painting to take home with them.
Jibola Fagbamiye is a Nigerian born artist and illustrator, currently based in Toronto, where he runs a social painting studio called Sip and Paint. His work mixes digital design, traditional painting and comic illustration.
www.sipandpaint.ca
---
Rayna Sydney
Bee In The City
BEE Alive and BEE Aware! Toronto is a Bee City, made possible by our gardens and green spaces! How We Live In Cities' Garden Centre at the BIG on Bloor Festival engages festival goers with hands-on bee friendly projects and initiatives that will build interest in environmental stability, while informing visitors and encouraging their support for garden habitats.
At the Garden Centre, visitors may create and wear flower crowns with live garden flowers, examine bees, pollen and wax honey-comb patterns using magnifying glasses, and contribute chalk-drawn petals to Bees on Bloor stenciled sidewalk flowers.
Bees Of Toronto: A Guide To Their Remarkable World
www1.toronto.ca/City%20Of%20Toronto/City%20Planning/Environment/Files/pdf/B/Biodiversity%20%20Bees%20of%20Toronto%20accessible%20final.pdf
---
David Hlynsky


Insect Zoo
The world of tiny insect creatures might seem to be just like the world we live in but it is not. In the insect world, a drop of water appears as big as a car, a parking lot is as vast as a desert, a bird is a giant monster, a cement wall is a huge cliff face where sand and grit provide footholds, tree sap is a gooey trap and even a gentle wind can carry you far from home. Still, nature has give insects a really amazing set of tools. If you like aliens and robots and transformers, you only need to look at the living show in your garden and under your feet!  Look at these through a microscope and you will see a miracle of design; antennae that pick perfume out of the air; legs made for walking on ceilings; movable, waterproof suits of armour; skeletons on the outside of their bodies; wings that look like huge sheets of clear plastic but can twist and turn in flight better than anything seen at an airshow.  Look closely. Discover the amazing world of insects!
David Hlynsky is an artist, author, teacher and photographer with an interest in exploring insects and their integration into urban settings.
davidhlynsky.com
---
Shyla Tibando
Animals On Our Street 
In the city we live in, there are many animals that thrive. Join the pack. Assemble and wear an animal mask, then roam free while enjoying the rest of Big on Bloor. The project also identifies which species living close to cities are at risk and makes information available so that local residents, governments and developers can take them into account. During Shyla's workshop, participants can make their own animal mask art piece to wear, and later hang up at home. Animals On Our Street is a call to safe-guard urban animal habitat by protecting, expanding and improving garden and green space. Project organized by Wllnttz.
Shyla Tibando is an animator of "Free Art Fridays" Toronto (FAFT), a project that places artwork on streets for any member of the public to enjoy and take home.
Mask templates by Wintercroft: www.etsy.com/ca/shop/Wintercroft#
---
Emily DiCarlo and Jacqui Arntfield
Memorial Parkette
Memorial Parkette is an interactive installation that invites festival-goers to draw from memory a plant that they have loved and lost (whether through natural causes or human error) and add it to a community shrine memorializing the lost plant life. The project is a playful response to the human impulse to memorialize selectively, to ritually mourn the loss of human and animal life, while rarely immortalizing plants with posthumous ceremony and representations. The workshop functions as a means to reflect on human kinship with the natural world, and the need to take responsibility for the stewardship of flora and green spaces.
Jacqui Arntfield is a cultural worker and socially-engaged artist who maintains a collaborative, conceptual and context-specific practice. Activating a background in philosophy and community work, Jacqui uses the arts as a tool for civic engagement, and has worked with numerous community arts organizations including Lakeshore Arts, Artscape Youngplace and 918 Bathurst Centre for Culture, Arts, Media & Education. Her interactive and participatory projects have been featured in public art events throughout Toronto including NXNE Music & Arts Festival, Art of the Danforth, BIG on Bloor Festival, 100in1Day Toronto and The Laneway Crawl Series.
Emily DiCarlo is a Toronto-based visual artist who works predominantly in sculpture, video, and performance. She has exhibited her work both locally and abroad including, but not limited to: MU artspace (Eindhoven, NL), NXNE Music Festival, Artscape Youngplace, 99 Gallery (Toronto, CA), The Orthodox Academy (Crete, EL), L'Oeil de Poisson (Quebec City, CA), and The Hungarian Museum of Travel and Tourism (Budapest, HU). She has presented her theories and criticisms as part of the 14th Triennial Conference of the International Society for the Study of Time (Monte Verde, CR), International Artist-in-Residency Summer Program organized by the Hungarian Multicultural Centre (Budapest, HU) and the 16th Triennial Conference of the International Society for the Study of Time (ISST) at the University of Edinburgh. Her writing has been published in 1W3KND: On Social Practice and Collaboration, 48 Hours at a Time (Broken City Lab) and artist book Hydra Era (L'Œil de Poisson).
---
Denessa Gookool


Civil Streets Flower Power
Walk, Ride and Drive Civil Streets! In an effort to promote the safe sharing of city roads, visitors can design, customize and decorate a safety backpack to take home. Brightly coloured and glow-in-the-dark backpack designs will help improve nighttime visibility and the safety of pedestrians and cyclists.  They backpacks will also double as your garden-making statement when you add patterns of plants and flowers.
The workshop will be accompanied by an exhibition of example backpacks created by Denessa Gookool. This project is a part of a follow-up BIG/BIA/Civic Studies campaign for traffic calming.
Denessa Gookool is an emerging artist and curatorial student at the Ontario College of Art and Design University.
---
STOP Plastic
The Bottle Cap Mosaic Project 
Help create a mosaic constructed with plastic bottle caps. Learn the alarming facts about plastic, and how bottle caps represent a surprisingly high percentage of waste. Join our campaign to stop single-use plastics, and understand why this is important for you, the environment, and for future generations. The StopPlastics workshop sources local materials used in creating the mosaic, and will be fostering discussions about single-use plastic.
StopPlastics is a volunteer run organization looking to help Toronto join other world cities that have banned disposable plastic. The StopPlastics' team advocates for a ban on plastic bags, in addition to hosting various events to further it's work.
www.StopPlastics.ca
---
Marjolein Winterink
Mind Exchange
Bring a book. Take a free book. Recycling book project for the duration of the festival located at the volunteer station.  Special call for children's book.
Marjolein Winterrink is the BIG Festival Volunteer Manager, an avid craft person and involved with a number of local citizen community and advisory organizations.
Contact winterink.m@gmail.com
---
Graven Feather
Explore the Garden
Tiny Letter Press with hands-on opportunity to make garden related imagery and tree prints. We'll have our smallest antique printing press inked and ready to go. Using pre-set designs made from wood and metal type you will get to print on a variety of papers. Learn how to print like a pro and take home beautiful mini prints.
Graven Feather, established in 2011, is an arts space committed to working with emerging artists. Starting 2017 we made a big change from our West Queen West location.  We have started a nomadic year and will be leading events and workshops throughout the city.  We have also launched residencies and classes from our new cozy studio in the Junction Triangle.
---
Please check back soon for more about the workshops and for the project schedule.
---
This project is made possible by the generous support of
CastlePoint Numa Greybrook
Appreciation also goes to MP Julie Dzerowicz for the Federal Government's Summer Student Program enabling HOW WE LIVE IN CITIES with BIG: Bloor Improvement Group to hire Rayna Sydney and Denessa Gookool.  Thank you to TD Friends of the Environment and CELOS for Spot Garden Project Support  Thank you again to the BIG organization and to the festival team and to all the artists, programmers, volunteer and others who contribute.
____________________________________________________________________________________________________________ 
2016
How We Live In Cities
ECOLOGY PAVILION 

Presenting the West End Green Asset Map. The map is developed as a research program and realized as a start-up initiative at the BIG on Bloor Festival. The map identifies west-end green space and key environmental advocates and is intended to foster on-going ecology projects. Drop-in and mark your location, add a comment, and help explore ideas to foster a West End Garden Corridor. The West End Garden Corridor proposes to link green spaces in a series of Walk Here routes. Each will be envisioned to develop gardens, plant trees, install art, and fosters community engagement programs along its development route.  
____________________________________________________________________________________________________________
How We Live In Cities
SPOT PROJECTS

A relay of 3 hour-long events of participation, performance, art, culture and ecology:
AKIN Collective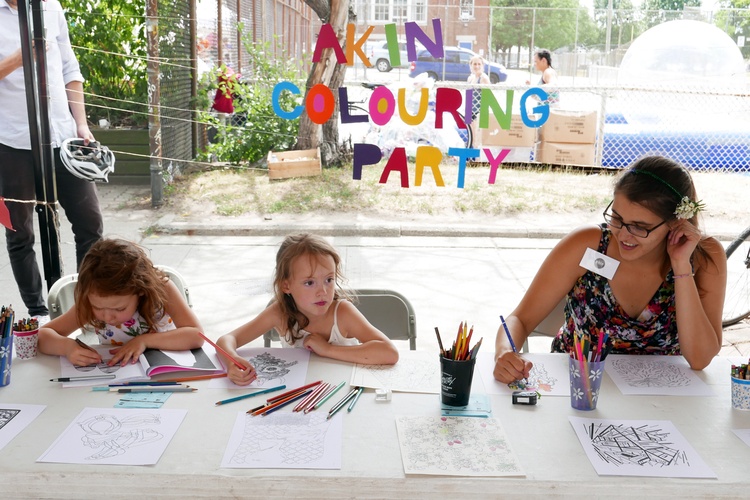 The AKIN Colouring book is an on-going curated project of original drawings contributed to by over 60 Toronto artists. At the festival, example pages and drawing materials were provided for festival goers to colour. The project is part of Akin's mandate to support artists by fostering opportunities and affordable workspace for creatives.
AKIN Projects is a nonprofit arts programming organization that offers both creative and professional development opportunities to members of Toronto's artistic and cultural community. Its sister organization, AKIN Collective, provides studio and shared workspace in a friendly atmosphere for about 160 members with locations Parkdale, Bloordale Village and Junction Triangle.
www.akincollective.com

Bees On Bloor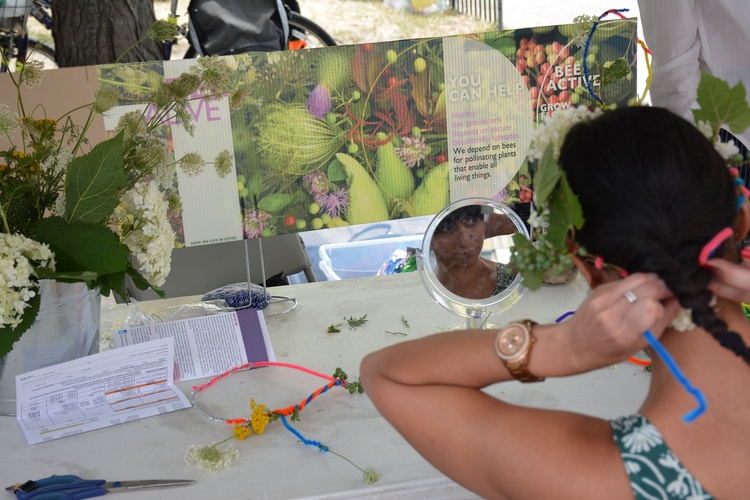 Toronto has elected to become the first Canadian BEE City in response to declining and endangered bee populations. BEE Aware, BEE Alive, hands-on BEE Friendly projects at the festival builds interest, informs and encourages support for garden habitats.
• Magnifying glasses to examine bees, pollen and wax honey-comb patterns.
• Create and wear garden and grass crowns made with live flowers.
• Add chalk-drawing petals to Bees on Bloor stenciled sidewalk flowers.

Botanicus Art Ensemble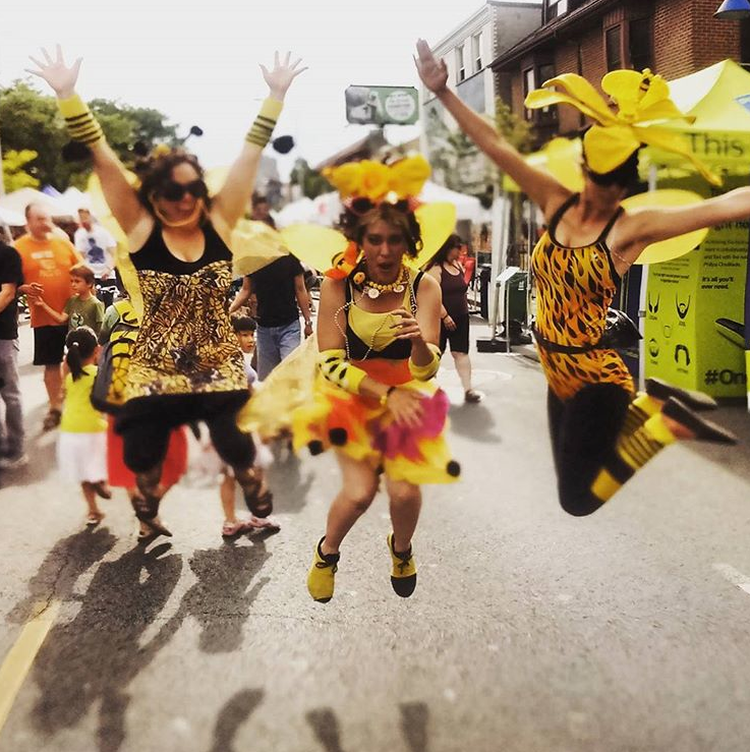 BEE with Botanicus Art Ensemble for their gardeninspired, theatrical extravaganza: arts activities culminated in a Bumble Bee Flash Mob at the BIG on Bloor Festival.
The Botanicus Art Ensemble supports diversity and strengthens community through the arts - from botanical arts and gardening to music, storytelling, theatre, promenade, puppetry, costume, sculpture and visual art.
The mission is to continue to grow and nurture the artist within each individual and take these multifaceted voices to the international stage.
www.botanicusart.com
Civil Streets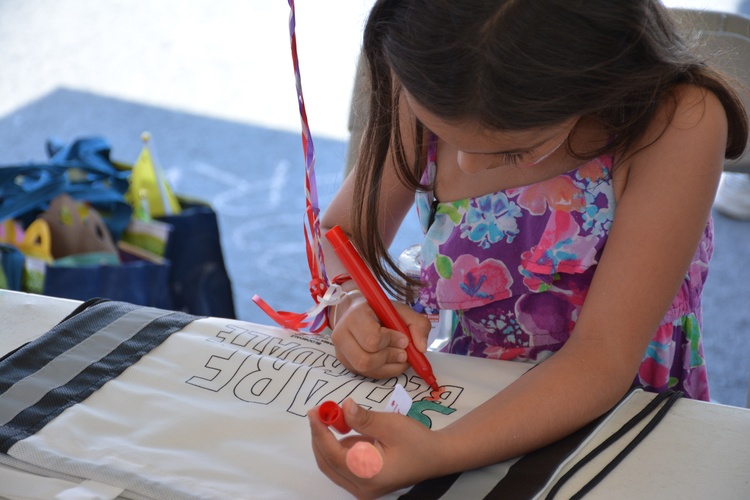 BIG / BIA / Civic Studies campaign for traffic calming. Colour in, glow-in-the-dark, SHARE BLOORDALE safety backpacks for - WALK, RIDE AND DRIVE, SAFE AND CIVIL STREET - and it's yours to keep, free! Accompanying artist made example exhibition.
www.bigonbloor.com
Cloud Of Doubt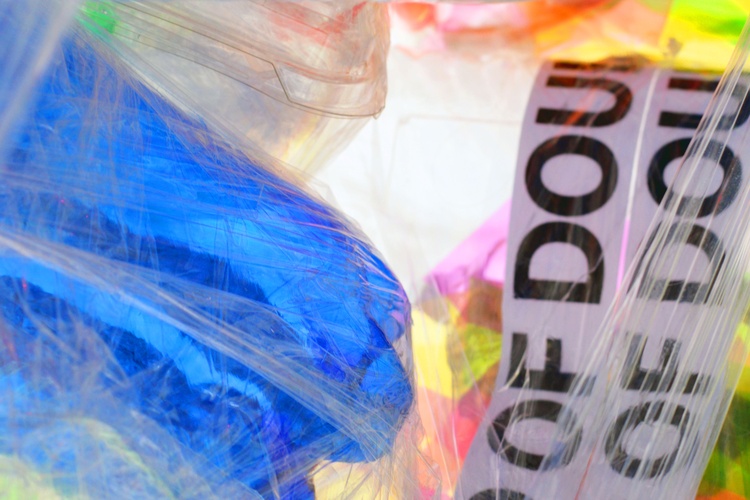 Regarding belief: explore your thoughts. A list of wide-ranging statements are offered to viewers as a list, a poem, a minute out of time – and an opportunity to admit your own response to them. Agreement, indecision or dissent, are recorded in a representative mark and colour. Dyan Marie performs the list as poetry on the half hour. 
Above hangs the Cloud of Doubt, a sculpture embedded with blinking LED lights in a construction made from archival plastic water bottles. The Cloud will be paraded, rolled and passed hand-to-hand through the festival on its way to the How We Live In Cities site.

EQUΔLΔTERΔL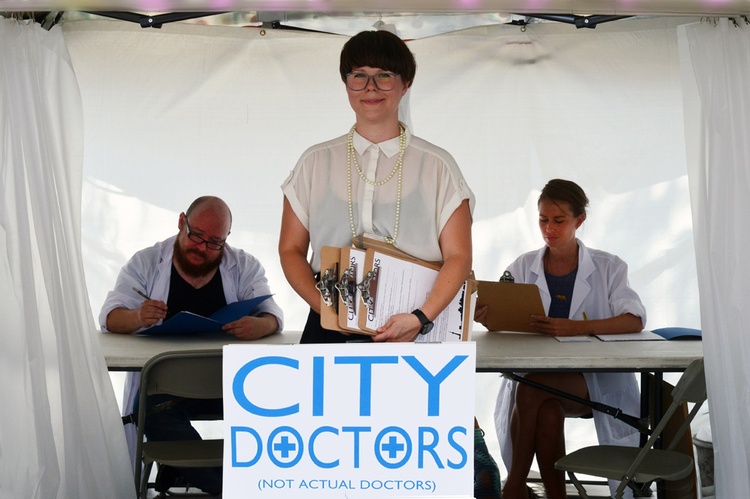 CITY DOCTORS (not actual doctors) is an interactive, satirical project which positions a collective of local artists as expert advisors on how to live in cities. Welcoming all queries from visiting participants, the members of EQUALATERAL was on site to prescribe idiosyncratic and highly subjective advice on how best to navigate the everyday complexities of our shared urban landscape. Following a one-on-one consultation with a city doctor, participants will walk away with a personalized set of instructions for how to troubleshoot their urban quandaries and maximize the experience of living in the city.
equalateral.ca
Fungi Unveiled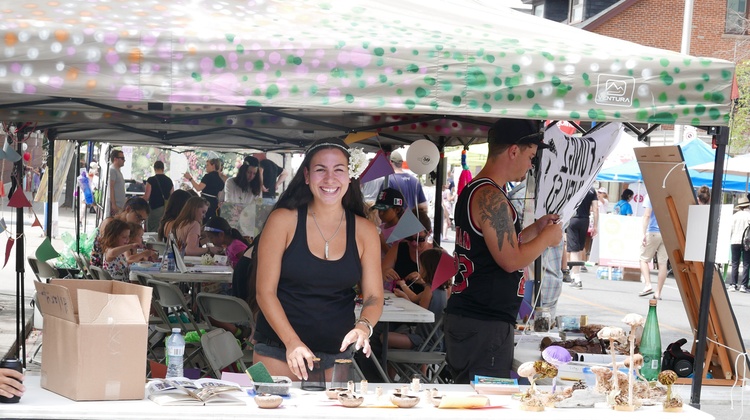 Based on a love of wild edible foraging and a mission to educate the public about the endless benefi ts mushrooms and fungi have in ecosystems and our everyday lives. Fungi Unveiled presented an exhibition with a wide variety of fungi examples accompanied by hand-on activities: pen and mushroom ink drawings and stamps, question and answers and find-out-more library.
The Toronto Biodiversity Series supports Fungi Unveiled through the "Mushrooms of Toronto", available online and in libraries across the GTA
www.fungi-unveiled.com
Gardiner Museum of Ceramic Arts
The Gardiner Museum is Canada's national ceramics museum, and one of the world's great specialty museums. They are committed to making a contribution to the medium they celebrate, as well as the community they serve.
The Malleable City is presented at the festival featuring a hands-on, family event allowing guests to create gardens and cityscapes made in clay.
www.gardinermuseum.on.ca
Graven Feather

Graven Feather is committed to building connections with artists and the community and feature a Tiny Letter Press with hands-on opportunity to make garden related imagery and tree prints. We'll have our smallest antique printing press inked and ready to go for How We Live In Cities. Using pre-set designs made from wood and metal type you will get to print on a variety of papers.
Learn how to print like a pro and take home beautiful mini prints Graven Feather is an art hub located in the heart of Queen West next to the beautiful Trinity Bellwoods Park. Geared towards both artists and the art-loving public since 2011, this bright and cheery environment is at its root a functioning studio for its artists, as well as a workshop, retail, and gallery space.
www.gravenfeather.ca
Insect Zoo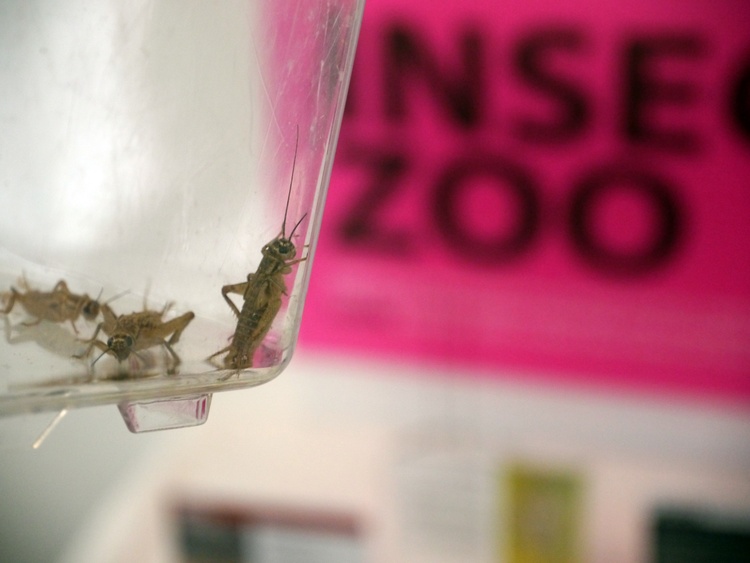 The chorus of 1000 crickets were released to sing for the BIG on Bloor Festival audience. Visitors walked by the How We Live In Cities site and listened to the beautiful mating sounds created by natures best string symphony.
Empathy for the large world of small creatures was encouraged; noticing local ants on the sidewalk, bees in the garden, streetlights attracting moths, questioning why grasshoppers disappeared from local parks. Festival attendees also explored our tiny insect zoo, featuring local insects captured and released the same day. Bee specimen were courtesy of The Bee Shop and the live crickets from Earth Echoes Reptile Center.
Inuit Art Rubbing

William Huffman of Dorset Fine Arts, a division of West Baffi n Eskimo Cooperative, curated a series of original slate sculptures from which festivalgoers could take inspiration to create their own prints from rubbing a variety of unusual surfaces.
The artists represented are part of the Cape Dorset community, a hamlet on West Baffin Island in Nunavut, that is home to some of Canada's most acclaimed Inuit creators. The Cooperative's Kinngait Studios is the oldest fi ne art print shop in Canada and is unique for its focus on the art and artists of Cape Dorset.
www.dorsetfi nearts.com
Sonic Lab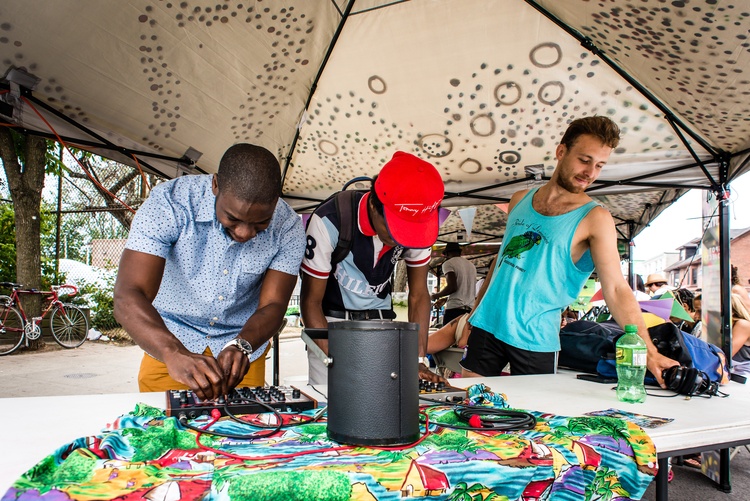 Interactive music experiments which utilize new technology, equipment and instruments, allowing for a communal creation of organized sound. Lead by alternative musicians based in Toronto from varying in different genres and skill sets, coordinated by Kvesche BE.
MakerKids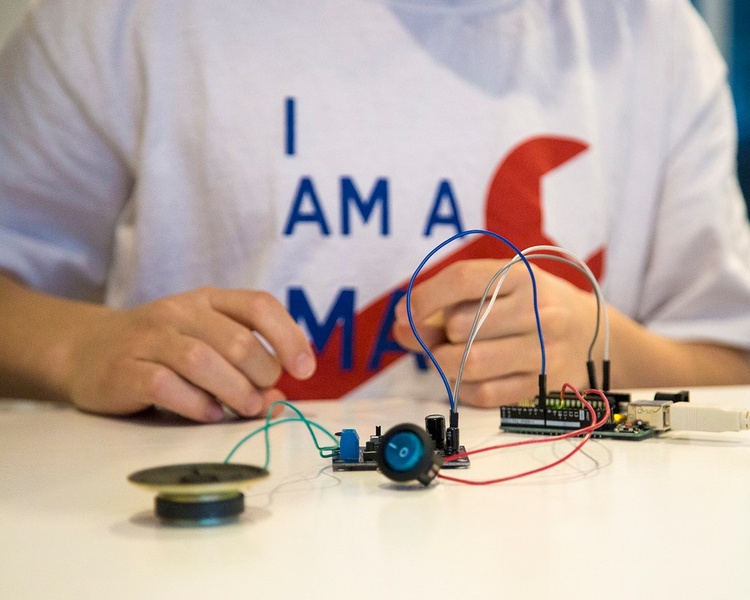 Play, experiment, explore: create and play a piano using fruits! Play with robotics projects using arduinos, open-source micro controllers, that allow anybody to be creators and invent technologies to help you and your world.
makerkids.com | facebook.com/makerkids
Mind Exchange
Bring a book, take a free book. Special call for children's books. Mark your page: make your marker with a How We Live In Cities original bookmarker stamp project. Recycling project with Marjolein Winterink, 
Contact winterink.m@gmail.com
Sip and Paint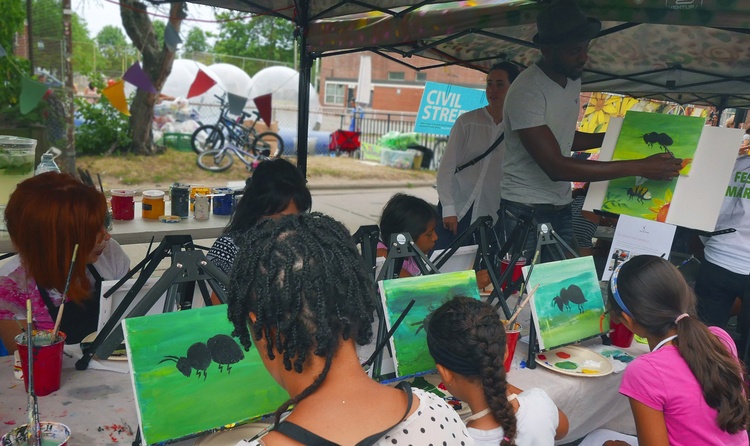 Never painted before? No Problem! At How We Live In Cities hub, festival-goers explored garden themed ecology project through painting, guided by a friendly professional instructor. People were offered step-by-step instruction to create an original painting of a honey bee to take home with them. All materials free, including bee nectar; a refreshing potion made of honey water, local flowers and herbs.
www.sipandpaint.ca
Textile Art

Free Art Fridays Toronto places artwork on streets for any member of the public to enjoy and take home. During the festival participants made their own friendly textile art piece to wear or hang up at home using recycled, contributed and found materials.
With opportunities to learn about how the creative process refl ects and advances personal health, while fostering a healthier environment. Project organized by Shyla Tibando.
Toronto Wildlife Live Painting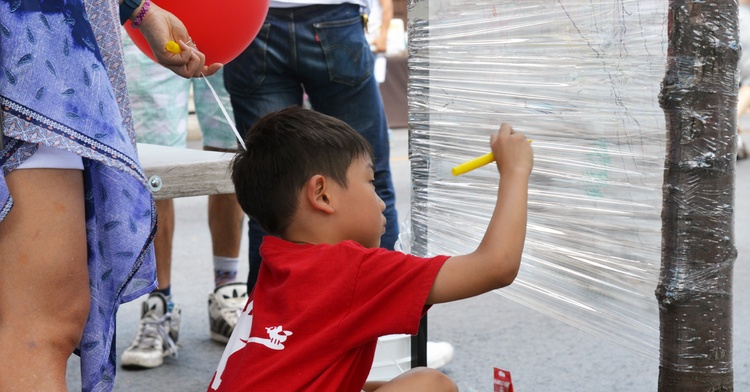 Watch the creation of a habitat for Toronto based animals, bees and flowers take form. Live painting by local artist, Jordan McKie using alternative canvases to create an engaging environment and presentation of art.

____________________________________________________________________________________________________________ 
This project is made possible by the generous support of 
CastlePoint Numa Greybrook.
Appreciation also goes to MP Julie Dzerowicz and the Federal Government's Summer Student Program enabling HOW WE LIVE IN CITIES to hire Tony Lien and Michela Sutter and to the BIG organization festival team and to all our programmers, artists and others who contributed.
_____________________________________________________________________________________________________________
How We Live In Cities
is a civic studies organization that responds to urban situations
with ecology, culture and art initiatives.
For more information Contact How We Live In Cities
HowWeLiveInCities@gmail.com
Darren Leu, constantleu@gmail.com
Dyan Marie, dyan@dyanmarie.com / 647-973-2349
facebook.com/HowWeLiveInCities
Instagram.com/HowWeLiveInCities