The activities at Card Yard 2015 will include:
Table hockey - Party Pucks
Magic - Baldini
Poetry & prose readings - Emerging Writers
Face painting - Maggie Godoy
Paper costumes - Kenway Yu
Board games stations - Board Again Games
Paper playground - PULP
+ various music acts and more
check back soon for more information

-----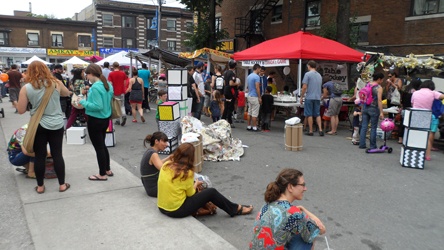 Card-Yard will present interactive projects stations by artists, architects, poets and social activists, community organizations to create a participation village specifically for Bloordale's BIG on Bloor Festival, presented by PULP and Senayah Design.
Activities for Card-yard at BIG on Bloor 2014
Afghan Box Camera by Alisdair MacRae: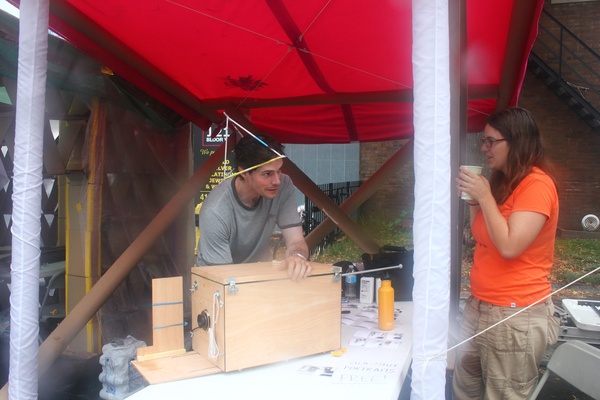 Alisdair will engage people at Card Yard by taking photos using an Afghan box camera, or kamera-e-faoree. The relatively simple apparatus allows negative images of subjects to be taken on the spot, then re-photographed, producing a positive image roughly the size of a passport photo. While the resulting photo provides a fairly accurate record of a person's likeness, the ramshackle apparatus, and manner by which it produces images problematizes photographic objectivity, particularly in terms of identity.
Disposable by Andrea Wrobel & Brian Cauley:
Disposable is an interactive installation that aims to repurpose everyday, forgotten, and thrown-away items. Participants are encouraged to write and draw on 1 of 1,078 disposed coffee cups with black markers and have their photo taken for display at the installation and on the disposableproject.ca website. The project reappropriates unnecessary waste and provokes a dialogue about consumption. This is the first stage in collecting 1.2 million cups, the number of cups Torontonians dispose of in one day.
Poetry Reading by Emerging Writers: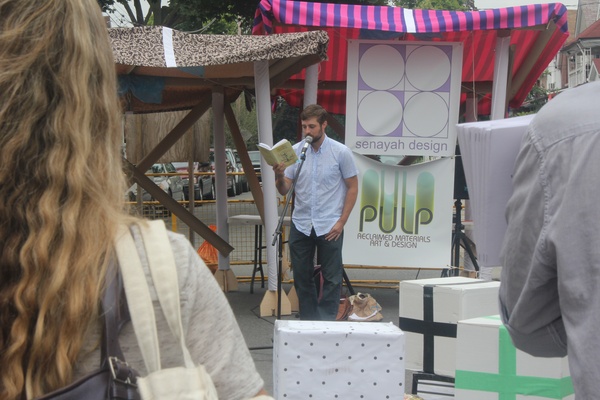 Emerging Writers will run a showcase of their past readers, including those that have gone on to publish books and win awards. Readers will be reading both poetry and prose and will make sure to adhere to the family-friendly guidelines. EW has sent out a call to past readers that did exceptionally well and has enough readers to fill several hours of programming each day.
 To set this year's Card Yard apart from last year's festival, EW will also include a set of four new readers, replacing their July 2014 show. This will attract more people to the EW activity. They will also have a laptop set up, playing audio from a past show and scrolling through the PULP Digital Book during breaks between reading sets.  
Kitchen Party by Helen Acraman (Haven Espresso)
Haven will offer a "Kitchen Party" with music, children's activities and hopefully an art installation outside Haven Espresso.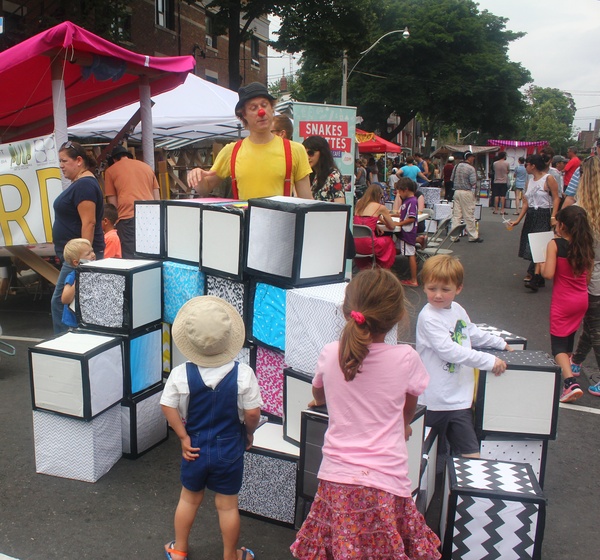 Maaskant is a local Toronto musician and producer who plays ambient and soundscape electronic music. He will be joined live by the incredible vocalist and songwriter, Yola Beru.

Dexter Fowler and friends will perform their version of an East Coast kitchen party with spectators encouraged to clap, dance and join in the fun!

Funkbucket with their fun, funky music for all to enjoy.

Children's art and craft table with Maggie Godoy doing face painting.

Phil Koole is a Toronto based clown who specializes in improvisational performance with thegeneral public.
Cabinet of curiosities and storytelling centre, mini museum-art gallery for fantastical, poetic objects by Jessica Rowland:
The set up will be like a museum or art gallery, with stories to be attached or improvised for each object. People can come in one by one or in small groups-of about 3, and get a private tour of the objects.  The outside of the tent/pavilion can be hung with images, symbols, or other decorations. The objects will be fantastical, referencing mythology, the imagination, and lyrical plays on words, ideas and metaphors. 
Costume Station by Kenway Yu: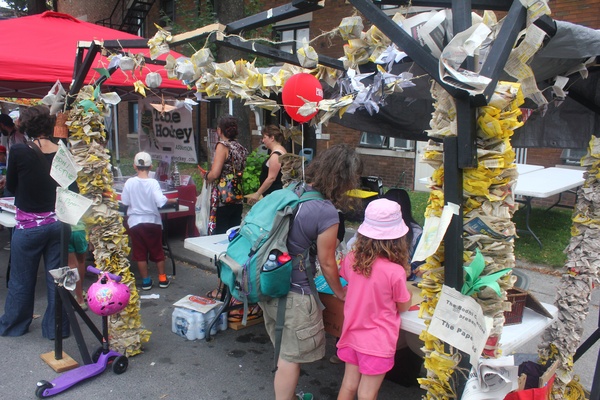 "Time to play! Come and put crayon and scissor to paper at the Papercraft Workstation. Make some art or just have fun. Hats, jewelry, toys, you name it! 
House of Card by Evan Brock and Mona Dai:
Evan and Mona's pavilion at Card Yard 2014 uses recycled cardboard to create an open gaming environment. By varying the density of the wall components, the back end of the pavilion will be more private, allowing the guests to play longer games that require concentration.  The front portion will be much more open to attract people to the booth and allow an interaction between gamers and passers-by.
Toronto Urban Photography Festival (TUPF) Couch Photo Studio: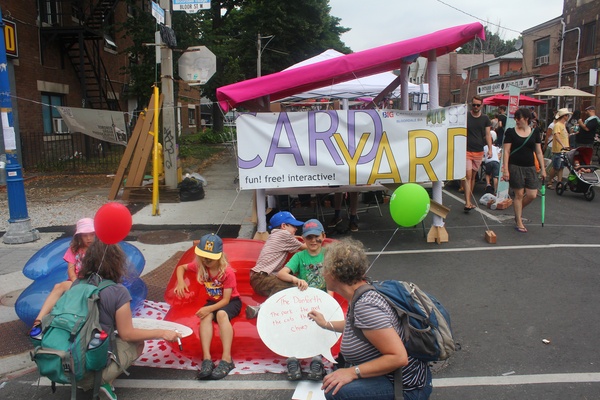 The purpose of the TUPF Couch Photo Studio is to get people to actively think about and express what their community means to them in a fun and interactive way.
TUPF team will setup a set of blowup couches and position their photographic gear (camera, tripod, lights if the area is dark, scrims if the area is too sunny) in the space provided. The space will look like a makeshift living room. TUPF will have a team of volunteers walking around and talking to people, posing a few questions to them. They will ask that respondents write their answers down on large speech bubbles. Then a professional photographer will take a picture of them and their speech bubble in the makeshift living room.
The pictures will be edited and put up on the TUPF website and will be available for free to download. TUPF will put together a presentation that will be projected. If the location for Card Yard is fitting they will project on location on a wall; if not they will be projecting the images in the window of Scrim4Rent Gallery in Kensington at a later time. 
Pilates classes by Sagrario Pilates:
Sagrario Pilates Studio will lead a pilates class on each day of the festival, with their characteristic focus on the smallest details unique to each individual, and personal attention from the teacher. 
Zumba classes by Susana Lamy:
Zumba is vibrating. Zumba adds a spicy touch to your moves and warms up your feelings. The flavour of Latin music will keep participants moving and having fun! Susana Lamy will lead a Zumba class on each day of the festival. 
Yard-Yard is curated by Rotem Yaniv and Michelle Senayah