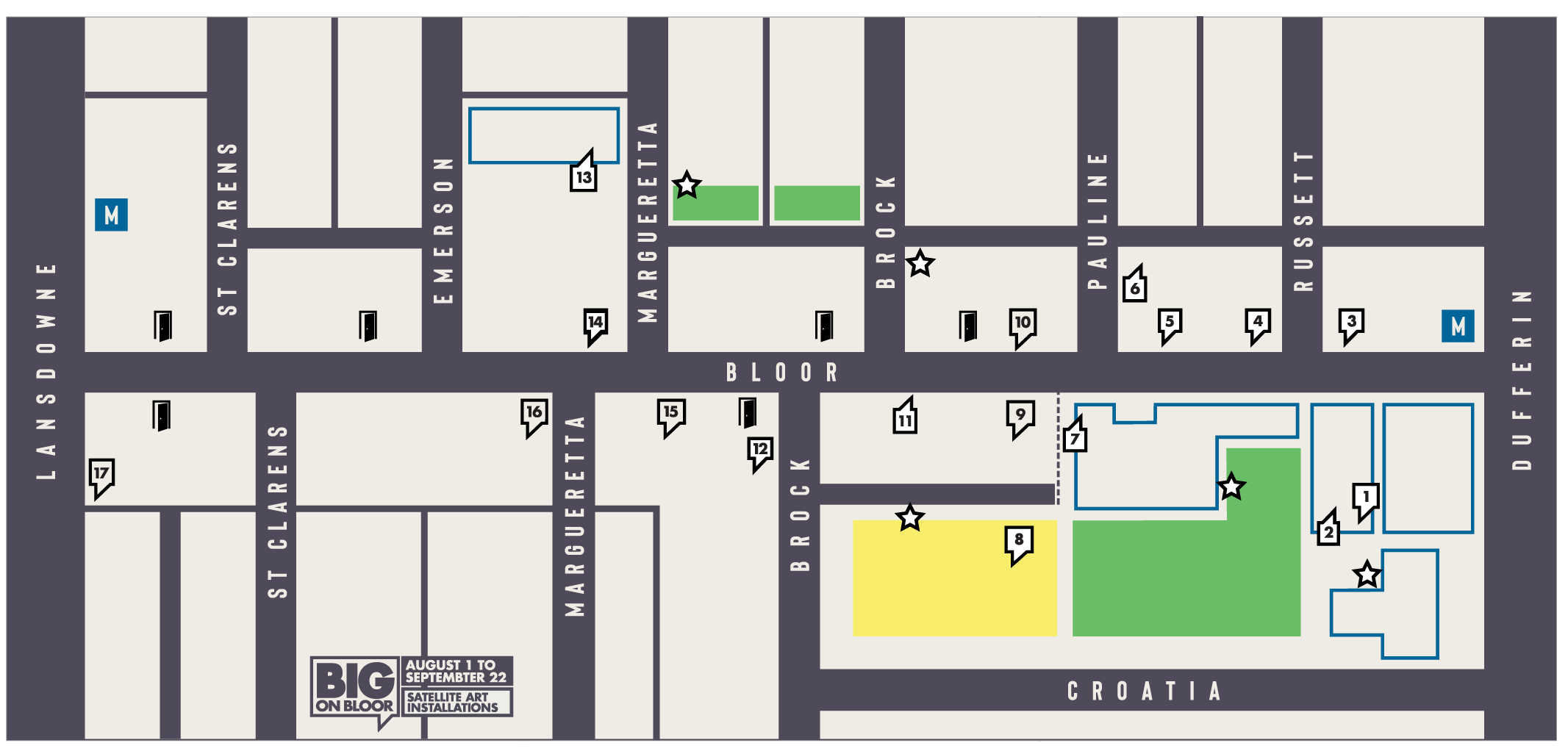 (Click to enlarge)
BIG on Bloor Festival opens its 13th year on August 1st with the launch of several art installations scattered throughout the Bloordale neighborhood; Bloor Street West, Dufferin to Lansdowne. Celebrating community magic, creativity, and diversity through arts and culture, while showing love to the local storefronts that make the strip so special.
Various location-based projects will be on view 24/7 and added weekly until the end of summer, September 22nd, 2020. Curated by Festival Director Darren Leu, projects will explore the concept of "Re-routing", exploring how we each navigate ourselves ecologically, socially, emotionally and locally. Re-routing asks: how may shifting our paths, directions, and movements open us up to the possibilities of social change, of "social re-routing." In moving differently, new futures can emerge, despite the discomforts we each will face. As you move through the art projects of Bloordale, we invite you to explore what new paths, views and vistas may emerge.
Public spaces meet more than one community need. We are excited to present an alternative community event that respects social distancing while celebrating community-building, local businesses, and the diverse arts and culture. Made possible by the Bloordale BIA, BIG on Bloor Festival is free and open to everyone.
ReRouting Series:
1) Oriah Scott at TDSB Parking Lot
2) LeyLand Adams at TDSB Parking Lot
6) Kizmet at Family Fruit & Flower
12) Tongson Chen at Sword & Board
13) Francis Pratt at Green P
Doors/Portals:
Natalie Every B at Halal Meat & Grocery
Al Alcovich at Previous 3D Printing Location
Zak Scholtz at Final Touch Thrift
Julia Prajza at Pizza Pizza
Leanna Gennuso at Sweet Pete's
Lingxiang Wu at Sweet Pete's
Outdoor Installations:
3) Janine Miedzick at New Horizons Tower
7) Lookie Leu at Three Speed Alleyway
8) Shari Kasman at Bloordale Beach
17) Mony Zakhour and Jared Olsever at Previous Lansdowne Cone
Window Installations:
4) Leone McComas at Virgo Beauty Salon
5) Morgan Abenhaim at EyeSore Cinema
9) Nuff and Natasha Leung at Caravan Cafe
10) Whyishnave Suthagar at MP Julie Dzerowics Office
11) Made of Millions at Corner Pocket Tattoo
14) Chason Yeboah at Home Baking
15) Jay Soule at Midwives Collective
16) Olu Seye at Salvation Army
18) Paddy Leung coming soon!
19) Card Yard coming soon!
Secret Series:
No promotion, no crowds, just those lucky enough to passby to witness our pop-up events. High quality videos will be released, showcasing local musicians and artists in our secret concerts series. To avoid large gatherings, we secretly filmed live painting and performances around Bloordale landmarks! Look out for the videos on our IGtv and YouTube channel!

TiCA Holiday performance with June Kim and Andrew Harris live painting at Bloordale Beach
Mother Tongues and Jesse James performance with Andre Kan live painting at Kent School
Idris Lawal performance with Andrea Castaro live painting at Saponetti Soap Refill
Performance and live painting TBA!
More information added weekly!
 BIG on Bloor 2020